Building analysis
Livit building analysis delivers facts – in a systematic, structured and detailed way. 
You know how old your properties are and you probably have a general idea of their condition. 
However, the individual structural components of your property age at different rates depending on their quality, function, exposure and maintenance. So it's important that you have an overview of potential action items to avoid unplanned patch-up repairs and a drop in value. You also need the ability to plan and fund renovations proactively.
To work out ahead of time what maintenance measures are needed when, for which structural components – this is something you can only get from a detailed, structured building analysis. The software we use provides a structured guide for our employees as they record the age and condition of each building component.
Our specialists analyse the data and apply their expertise to put forward recommendations on future investments. They will offer you options for grouping multiple measures based on the remaining service life of the different structural components and practical alternatives for combining them.
The aim: to save you time and money.
 
Step 1
Visit from our construction experts
Our specialists record the age, the construction and the condition of all key components of the building envelope, the building technology, the interior and the surroundings, as well as the safety-related risks. Depending on the situation, we may recommend bringing in experts – for functions like probing, structural checks or clarification on harmful substances.
Step 2
Recording data
Our specialists make a systematic, structured digital record of the information using a tool specifically designed for this purpose. The app structures the process for the specialists and soon all key aspects such as condition and materials are comprehensively recorded, with accompanying photos. That means we can ensure a consistent level of quality and appraisal.
Step 3
Recommendations for maintenance measures
Our experts use mathematical models to calculate the likelihood of breakdown and remaining service life for each of the structural components. Depending on the end of the service life, we can recommend an appropriate package of combined measures and the best time to implement them – adapted to your property strategy, of course.
In our extensive report, you'll find short-, medium- and long-term recommendations for refurbishment along with a costing, giving you the perfect basis for your budgeting. We also give you the data in digital form so you can feed it into your systems, depending on technological requirements. 
Let's make your refurbishment plannable.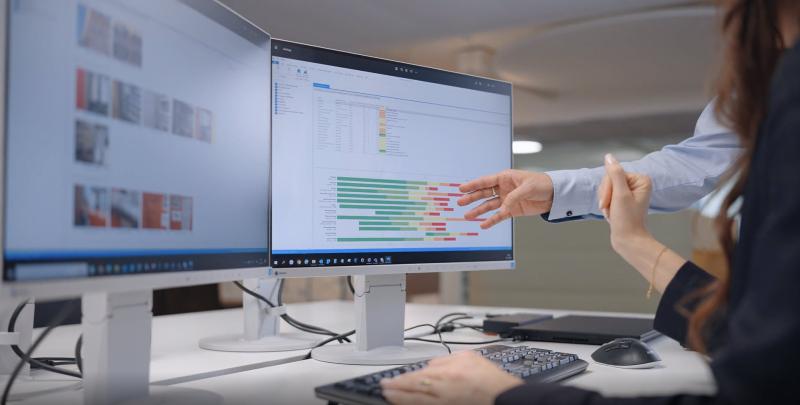 Your benefits: 
You get detailed information on the nature, time and cost of necessary maintenance measures
Planned refurbishment helps keep you within budget 
Prevent unexpected damage and breakdowns 
Avoid maintenance backlogs and preserve the value of your property
The structured workflow guarantees a uniform process across your entire portfolio – throughout Switzerland
Benefit from the vast experience we have gained from hundreds of refurbishments performed annually
That's how building analysis works:
(Swiss german with german subtitles) 
What happens next? 
You now have detailed knowledge of the condition of your property's structural components and you know which refurbishments need to be performed when. Now you need to determine the feasibility – with the aim of realising the potential of your property and increasing its value. 
 
Feel free to contact us.
We have time for you.