Training at Livit? It is just awesome!
We'll turn you into a real estate professional
Property is our very reason for being. That's why, from your first day at Livit, your basic commercial training will see you dealing with the property management and the rental management. As a budding real estate professional, you are adaptable, think in an interconnected way, communicate transparently and are tech-savvy. Are our expectations high? Absolutely! But it's nothing you can't achieve, and you can bet we'll help you get there. During your training, we'll help you hone your social, methodological and specialist skills, and train you into a sought-after expert. 
Taster days
Are you currently in career-choosing mode and want to find out about our apprenticeship to become a Management Assistant in Property/Escrow? In spring, we'll give you the option to get a feel for Livit. A registration link will be added to this page in February.
If you have any questions about training at Livit, please feel free to contact us by phone.
The choice is yours: KV commercial association apprenticeship or commercial internship
You can complete basic commercial training with a Federal VET Diploma at our company, either as a three-year KV commercial association apprenticeship specialising in the field of property/escrow, with or without a vocational school-leaving certificate, or as a one-year KV commercial association internship following graduation from a school of business or economics.
See our brochure (available in German only) for more about the jobs, requirements and how to apply. 
Our apprenticeship and internship places can be found on our job board. 
Three-year KV commercial association apprenticeship in property/escrow with or without a vocational diploma (BM1)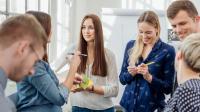 One-year KV commercial association internship following graduation from a school of business/economics
Your advantages when you work for us
Informal culture and a friendly, supportive working environment

Practice-oriented training with a mentor, who will support you closely throughout your training

Regular networking and sharing information with other apprentices

Personal action plan and internal training days to link your theoretical knowledge to practical application

Periodic assessments to determine your training needs and goals

Modern offices and IT infrastructure

Additional four weeks off for a language-learning holiday

Rewards for good performance
Training in the bag. Now what?
Following the successful completion of your training, the door is open to you at our company. Developing the next generation is important to us – another good reason to complete your training here. Livit currently employs 24 former apprentices and interns across various departments, including in property management, initial and further letting and in accounting. If you stay at the company after completing your training with us, you'll benefit from many opportunities for development and promotion in all divisions.
Have we sparked your interest?
Then keep an eye out for our open apprentice and internship places. We usually publish these on our job board around 12 months before the KV commercial association apprenticeships and internships start.
Ask us your questions
At Livit, you'll communicate with a person who knows what you're dealing with and how job hunting works.
We're here for you. Simply send an email with your question to akademie@livit.ch or contact Claudia, our vocational training representative, by phone.
This might also be of interest
Claudia Lustenberger
Senior HR responsible for vocational education